EVENTS
In "UNITED Events" we take care of every single detail of event planning – from creating original scenarios to full technical support, event styling and professional event staff.
ARTISTS
We work with a team of well-known professional artists who are ready to bring best live music concerts to your event.
PR
We prepare and implement large-scale communication plans, copy write and publish press releases on a wide range of topics, cooperate with the country's largest advertising channels.
"UNITED Events" mission is to create unforgettable and most beautiful memories for you! It is our pleasure to get to know each and every one of you better – your previous experiences, brand values and your vision of the perfect event to offer you original, custom made event scenarios that meet and surpass your expectations!
Innovative technical solutions
Breathtaking visualizations on the high definition LED screen, live music shows followed by professional event lighting, 3D mapping technologies for the innovative event scenography, interactive LED screens to create dynamic event spaces, holographic presentation stands or hologram 3D displays, games for mobile applications – these are just a few examples of event accents we are ready to offer you and your event guests!
Original songs
Long-term cooperation with professional performers and composers not only guarantees quality live music concerts at your events, but also allows "UNITED Events" to offer you original songs written exceptionally for your brand and for your specific occasion!
Event decorations
We also offer event styling services – themed decorations, floral arrangements, sweet table decorations, original photo walls, other accents of event decor.
Menu tastings
High-quality catering services contribute a lot to the success of a great party. We offer menu tastings for our clients to prepare the most convenient party menu. We work only with experienced suppliers who guarantee catering services of the best quality: fresh food, attractive presentation of it, fast, professional team, whichever it is, a buffet-style reception or a gala dinner.
Original Scripts
For each client, we offer original scenarios developed with respect to individual preferences, target audiences and goals of the event – unconventional themes, stunning event scenography, impressive performances by professional artists, innovative visuals, music and light shows, etc. to surprise you every time!
Logistics
If necessary, we arrange transportation of the participants to and fro the venue of the event. We ensure that the trip to the event would be as entertaining as the event itself with the help of professional actors and our assistants who involve participants in fun activities.
Events abroad
Surprise your employees, customers, and partners with unforgettable experiences abroad. Bringing your guests to beautiful foreign locations with the best local entertainment and cuisine is a great way to thank them for working together. For your events abroad, we cooperate with partners in Italy, Georgia, the French Riviera and other breathtaking holiday destinations.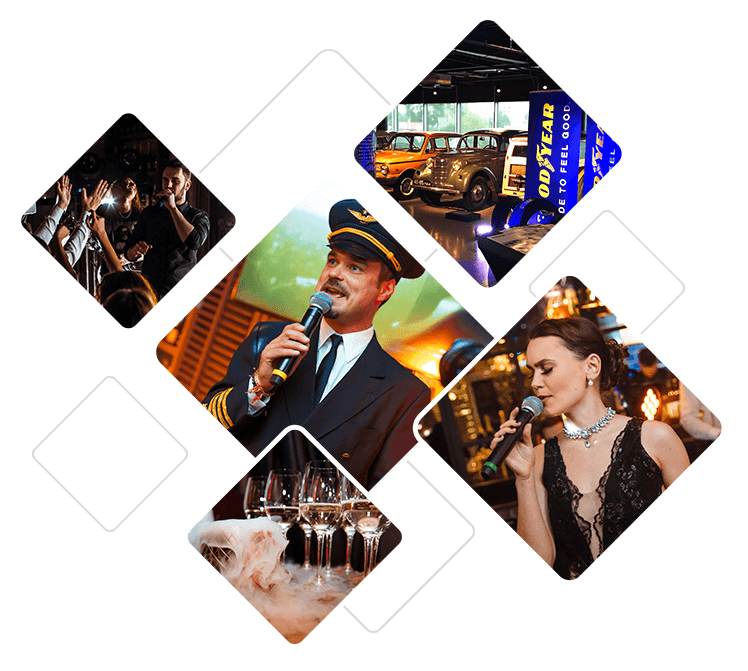 Our clients